About "PhD research in REFORM"
In the newsletter items dedicated to PhD research in REFORM, PhD students introduce the topic and the initial results of their research.
Introduction
Wetlands are one of the most important and productive natural ecosystems on Earth. They play a significant role for the functionality of whole ecosystems and human wellbeing (e.g. role in water cycle, carbon storage, wildlife refuge). Wetlands have economic, cultural and touristic values providing numerous of benefits to people, called ecosystem services. Nowadays most of these ecosystems are degraded so there is need to restore them. Proper management of wetlands is crucial to protect and increase the values of these ecosystems and hence also ecosystem services. Therefore, a valorization of ecosystem services of restored areas is important to assess the performance of restoration projects and improve their implementation by choosing the best scenario.
Objectives
The main aim of this PhD research is to assess restoration projects using the ecosystem services approach. This assessment is meant to show whether the project objectives have been achieved. The information about benefits obtained from wetlands should be considered in the future performance of restoration projects. Different alternative scenarios for restoration will be developed, aiming to support better decision-making in restoration planning.
Approach
Three different wetlands were chosen for this PhD research in the Biebrza National Park, the Kampinos National Park and the Warta Mouth National Park. This article is concerned with the evaluation of The North Polder in the Warta Mouth National Park (see photos) which is one of the REFORM project case study sites. The "Project of revitalization of wet-meadow habitats in the Warta Mouth National Park – North Polder Wetlands are good!" mainly aims at restoring wetland habitats in conjunction with extensive grazing management and flood control function of the North Polder. The main threat to the natural values of this area is very strong desiccation. This process leads to soil degradation and secondary succession of vegetation on meadows and pastures unused by farmers. Water scarcity and willow thickets emerging in the southern part of the polder as well as herbs in the northern part, significantly contribute to the loss of valuable habitats which serve as breeding places for many rare and endangered species of birds.
Ecosystem services will be assessed before and as far as possible after the restoration project is finished.
Ecosystem services (quality and quantity) will be evaluated based on 4 issues: hydrology, carbon in the soil, functional diversity and socio-economic aspects. All evaluated ecosystem services will be mapped and compiled. The compilation allows finding hot spots of the most important ecosystem services.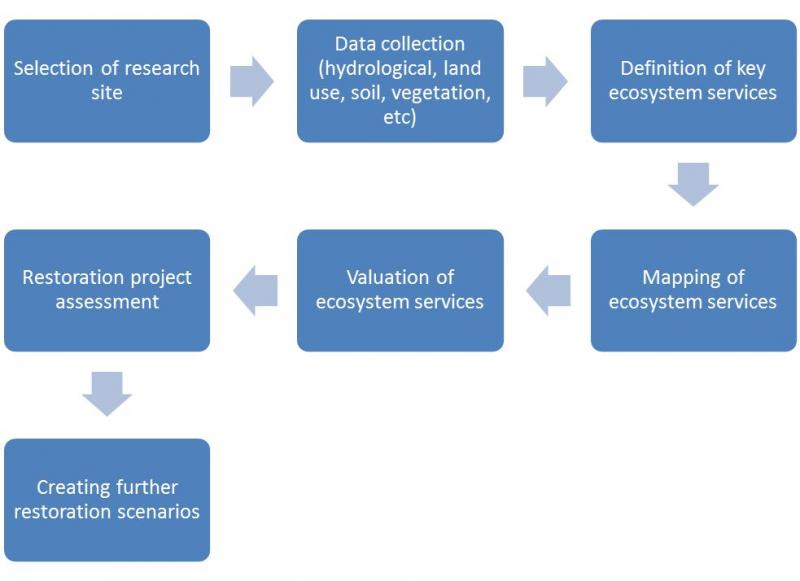 Figure 1: Scheme of work
Preliminary Results
Based on preliminary research on available metadata, a table with ecosystem services significant for this area has been created (Table 1). The table is based on the Common International Classification of Ecosystem Services (CICES). It consists of three general types of ecosystem services: provisioning, regulating and cultural. After collecting detailed information, all types will be analyzed to choose the most important ecosystem services for wetlands.
Table 1: Ecosystem services based on CICES classification.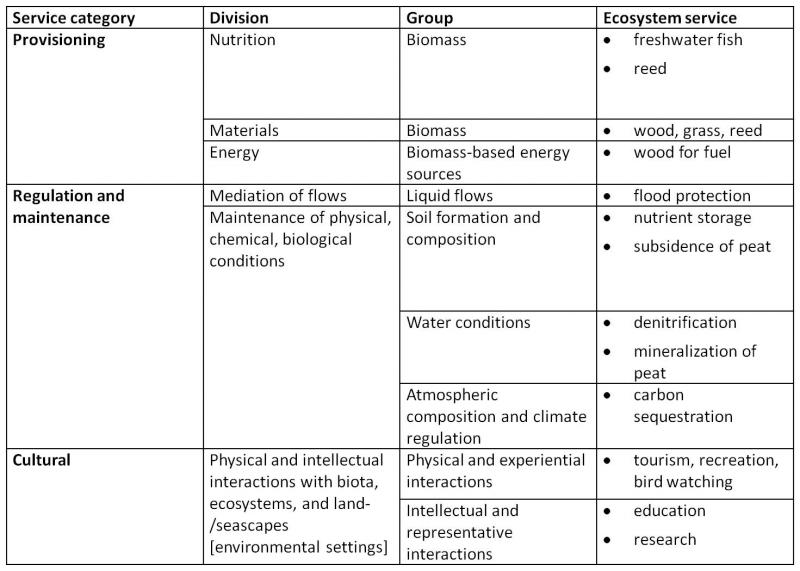 Further work will allow assessing ecosystem services in terms of the four issues mentioned above (hydrology, carbon in the soil, functional diversity and socio-economic aspects). In addition, mapping of the ecosystem services will be undertaken, which is an easy way to determine synergies and trade-offs between different ecosystem services and shows their spatial distribution. The mapping will form the base to evaluate the restoration project. Such assessment can help in the subsequent management of the ecosystem (e.g. by identifying highly valuable areas).
Photos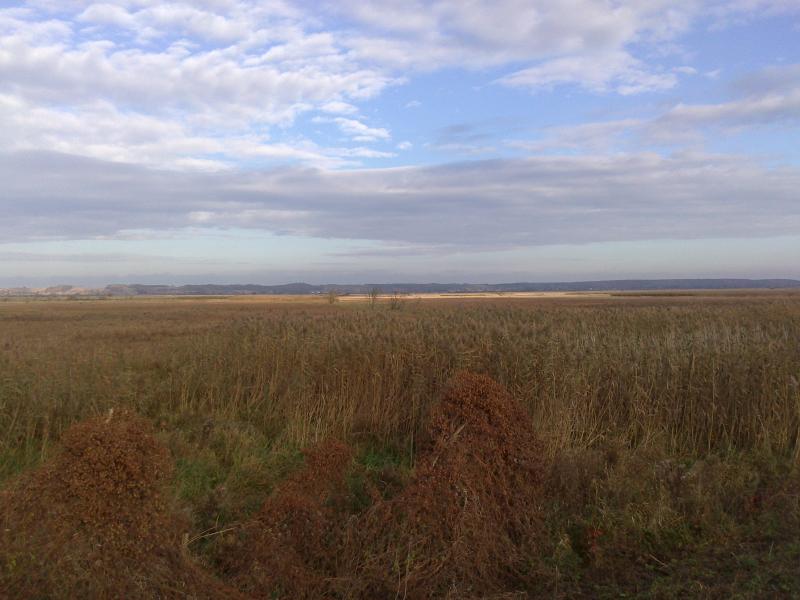 Figure 2: Area covered with reed (Luiza Tylec)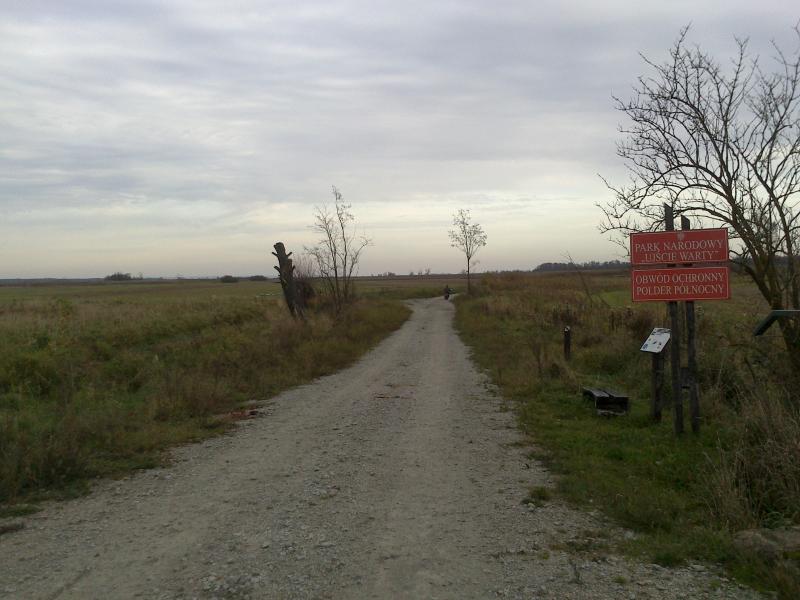 Figure 3: North Polder area (Luiza Tylec)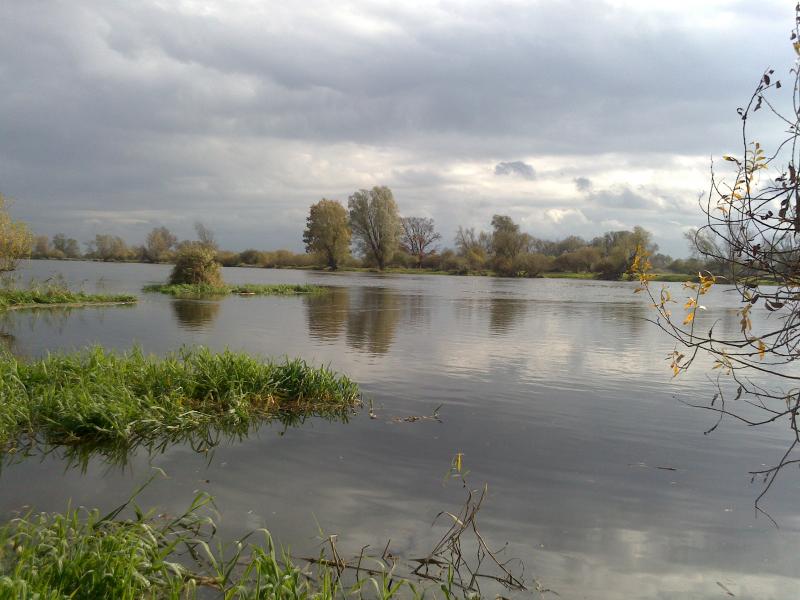 Figure 4: Old Warta riverbed (Luiza Tylec)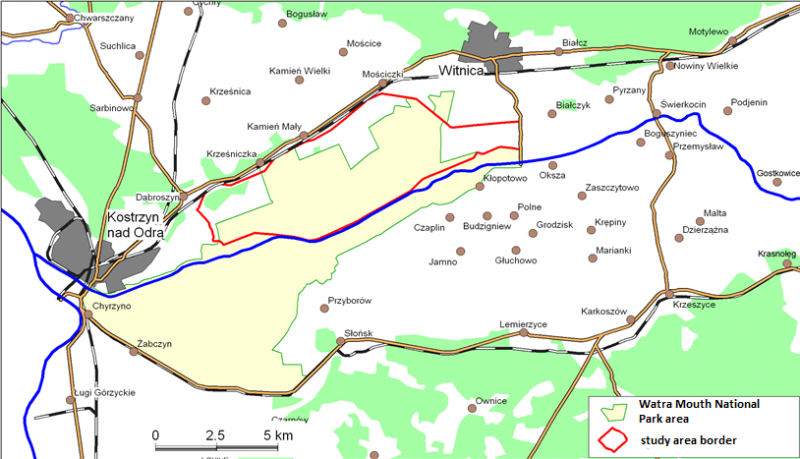 Figure 5: Project area
References
Okruszko T., 2009: The concept of revitalization wet-meadow habitats in the Warta Mouth National Park - North Polder [in polish], report, Warsaw
Ramsar Convention Secretariat, 2013. The Ramsar Convention Manual: a guide to the Convention on Wetlands (Ramsar, Iran, 1971), 6th ed. Ramsar Convention Secretariat, Gland, Switzerland.
SIDŁO P. (red.) 2005: Evaluation of birds' population in the areas covered by the Ramsar Convention. Report prepared for the Ministry of the Environment [in polish], OTOP, Warsaw
Sidło P.O., Błaszkowska B. & Chylarecki P. (red.) 2004: Important Bird Areas of European importance in Poland [in polish], OTOP, Warsaw
Further links
Author

Luiza Tylec, Warsaw University of Life Sciences (in cooperation with the University of Antwerp, Department of Biology)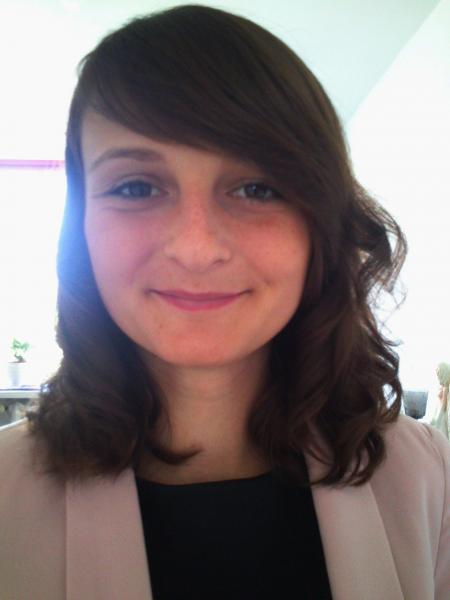 For further information:
Luiza Tylec, Warsaw University of Life Sciences